For Auto Detailing and Rust Prevention in Gladwin, Head to the Maverick Garage
Proudly partnered with Krown Rust Protection & Detailing Service, the Maverick Garage is your one-stop shop to ensure you're vehicle remains spotless throughout the year.
Protect your car or truck against the Michigan winters with Krown Rust Protection or choose between three detailing packages, Basic, The Full Service, and The Treatment, view the benefits of each package below!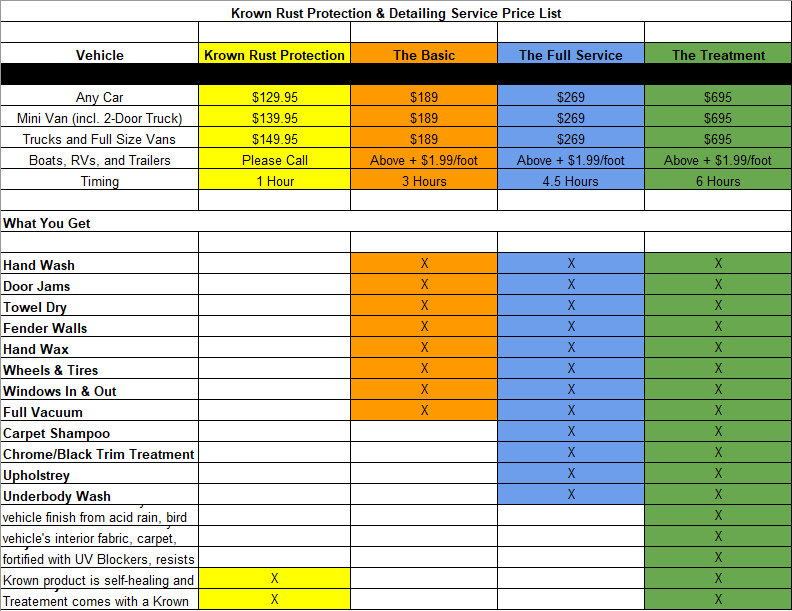 ---
Keep Your Ford Spotless at the Maverick Ford Detail Center in Gladwin
As a Michigan driver, you already know the importance of routine maintenance for your Ford Escape, but have you ever thought about having it detailed? When you have your Ford detailed, you're enhancing its appearance. At Maverick Ford, we advertise auto detailing to Gladwin residents and those in surrounding Michigan communities. By partnering with Krown Detailing, we'll strive to restore your Ford car, truck, or SUV to its pristine condition. Without leaving home, Midland customers can find out service pricing and schedule a detailing appointment online.
Importance of Detailing and Rust Proofing Your Car or Truck in Gladwin
When you have your Ford Explorer detailed at Maverick Ford, you'll be getting much more than the gifts of a hand wash and waxing. You'll be:
Removing dirt, oil, and other particles that could shorten the lifespan of your engine.
Making it easier to sell your Ford vehicle due to the increased resale value from detailing.
Giving yourself the reward of a clean, comfortable cabin and safer driving experience.
When you schedule a detailing appointment, you're ensuring that your Ford F-150 remains spotless throughout the year. Through the detailing process, you're protecting your car against Michigan weather and other natural elements that cause damage over time. At the Maverick Ford Detail Center, serving Houghton Lake, there are three available detailing packages: Basic, Full Service, and Treatment. We also offer Krown Rust Protection for rust proofing and rust control in Gladwin. You can learn more about the prices and details of these services before your visit to our Ford dealership.
Get Your Ford Detailed at Maverick Ford Near Beaverton
If your interior carpet could use a good vacuuming, or your wheels need polishing, schedule time in the Maverick Ford Detail Center. Between the three detailing packages, every inch of your Ford Mustang will be cleaned and buffed to perfection. You can trust the partnership between Maverick Ford and Krown Detailing to restore the look and feel of your Ford. See how Ford detailing can protect and enhance your Ford Ranger by reserving your auto-detailing appointment today.
---
Detail services are by appointment only.
Please call our Service Advisors to schedule your detail today!
989-426-9218
service@maverickford.com
1435 West Cedar Avenue
Gladwin, MI 48624
*Prices are subject to change based on vehicle condition.